80″H x 25″W x 34″D (27 RU) Outdoor Enclosure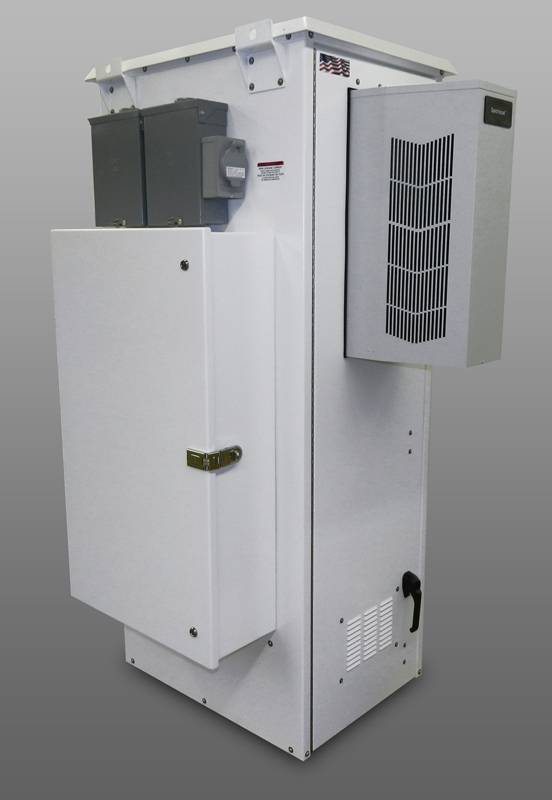 Industry Standards
NEMA 3R, 4 or 4X
ETL Certified to UL standard 60950-1/CSA 22.2C
Application Types
Provides a secure, climate controlled environment for any electronic equipment.
Telecommunications
Wireless/Broadband
Fiber Optics
Backhaul
Base Station
Small Cell/DAS
Utility – Traffic
Trailer-based Communications
Wi-Fi
Flexible and Scalable
The LTEE series enclosure is the ultimate choice for your outdoor equipment racking applications. Being constructed of our Alumiflex® material, you'll find it noticeably lighter than steel, yet strong enough to rack even the heaviest equipment. When you choose the LTEE series, you are selecting the highest value and most feature rich enclosure offered. With many standard features including HVAC, climate control, electrical load panel and side spool cabinet. The LTEE is ready to make installation and startup as easy as possible. Other standard features such as our versatile "R- strut system", for adjustable racking and the security of the 3 point locking system are quality features you have come to expect from the DDB name. The LTEE series…. a state of the art, feature rich design at a competitive price with benchmarked leading delivery times.
Base Cabinet Weight and Dimensions
Exterior Cabinet Dimensions
80"H x 25"W x 34"D
Approximate Weight Raw
505 lbs. / Shipping 580 lbs.
Shipping Dimensions
45"H x 60"W x 86"D (ships on pallet)
Features
Heavy duty out-door construction with Front and Rear Access, Pad Mountable, and 0.125" Aluminum construction
27 Rack Units (RU) – 19" (standard) or 23" (optional) Racking Rails w/ Etched RU Markings and cable pass-through holes
SS External Hardware and Polypropylene filters
Included Four Square Outlet & Junction Box With 220 Leads
Front and Rear set of adjustable 19" racking
Interior Light
Dual 48V Fan Kit with Adjustable Thermostat
2 Sets of 3 Pole Alarm Switches
100 Amp Dual Panel AC Power Load Center Configuration with 50amp Back-up Generator Plug
Lifting Hooks
12" Copper Ground Bar on 14" Risers with Isolators
ACP-4000-N28-1(2): 4000 BTU 110V, 1300 Watts of Heat
Single Pad Locking Handle for the Bottom Compartment
Side Box 45"H x26"W x10"D with Removable Plywood Backplate with a Total of (5) 2" Cable Pass Through Openings