R7-62DD-ACD (Single Compartment / HVAC Cooled)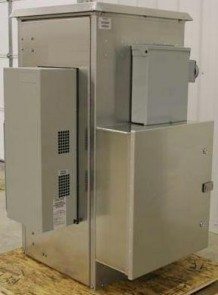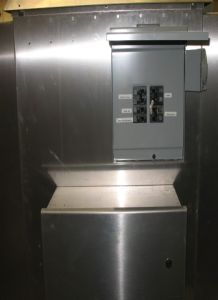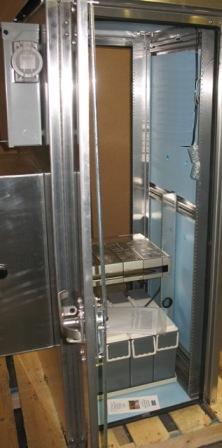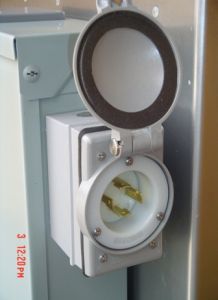 R7-62DD-ACD (230V)
62″H X 37″W X 44.5″D
ETL & CSA certified
Outside Plant (OSP)
4000 BTU 230 Volts with 400 Watts of Heat
Ext. Generator Plug
Door Alarm Switches
Fluorescent Light
Spool-Up Side Box
Ground Bar
R3.3 Insulation
2 Sets Standard EIA 19″ Racking
100 AMP Main Load Center w/Generator Plug & Manual
Transfer Switch w/Spool-Up Box for Fiber for Cabling
R7-62DDCW-ACD(120) = 120 Volt version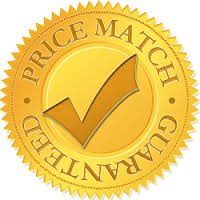 Nema Outdoor Wireless Racking Cabinet Enclosure for the 4G / LTE / OTN / Outside Plant (OSP) / CATV / Wireless Markets .
It's the superior design in communication Cabinet Enclosure, being as rigid as steel and yet noticeably lighter than the old heavy steel constructed cabinets. This is made possible with our own aluminum recipe called Alumiflex®. It offers the protection needed for any severe outdoor environment. It's constructed of .125" Alumiflex® material and comes with an additional " Alumishield® top cover, thereby fully protecting your equipment from falling ice and the sun's heat penetration. Ultimate security is provided by a three point locking system, which utilizes NEMA stainless steel padlocking handles. It's made of Alumiflex®, will operate without affecting, or being affected by, RF influences. It is ETL certified. Outdoor cabinets are becoming the alternative shelter solution for today's complicated zoning requirements. So whether you're installing a new shelter or adding room to your existing one, It's ultimate solution.
Specifications

Weight

682 lbs. assembled 730 lbs. Shipping weight

Doors

Two – secured by three point locking system Locks via customer supplied padlocks sealed with 13/16″ aluminum filled gaskets

Material

.125" Alumiflex® Finish: Flat aluminum RF properties: Non-ferrous

Handles

Zinc Die Powder-coated Black EMKA Three Point Padlocking Handles

Exterior Screws

Stainless steel with NEMA washers & nylon locking nuts

Racking Specifications

Rails

4 standard (For additional rails see accessories) 2 half length Holes tapped to 10 x 32 threads Each rail supported by three R-STRUTS™

" material (Alumiflex®)
Spacing

19″ EIA Standard

Positioning

All rails fully adjustable from front to rear, (Not Including Positioning of Outlets)

Useable Height

Useable Racking Height Has Been Revised to Only Fit in the Opening of the Door Jam. Which is Cabinet Height Minus 3.75"

| | |
| --- | --- |
| Total # of  Rack Units:  33 | 66 RU's per Rail Set |

Useable Depth

Maximum: 30 1/2 " Minimum: 28 3/4″

Door Opening Clearance

Height

57 13/16″

Width

19 1/2″

Exterior Cabinet Dimensions

Main Body

Width: 25 1/2″ Height: 62 1/4″ Depth: 34 1/4″

Alumishield®

Width: 28 1/16″ Hang down height: 1 3/4″ Depth: 38 11/16″

Handles

Protrude 1 7/8″

Total Space Occupied

Width: 28 1/16″ Height: 62 1/2″ Depth: 38″

Inside Clearance – Less Rails

Width

23 5/8″

Height

62″

Depth

See racking specs – useable depth chart above

Ratings

NEMA Class Types Available

Class 250 Type 4x

Paint Tested

1000 Hour salt spray (Textured) 1000 Hour immersion

Warranty

Period

15 Years – Unconditional

SPOOL UP SIDE BOX

Dimensions

26″H X 22″W X 10″D

Security

2 Quarter turns Screwdriver Locks

Constructed

Out of .125" Alumiflex® Continuously welded on all seams

NEMA

Weatherproof aluminum filled gasket seals top lid

Finish

Polished unpainted aluminum

Plate

1/2″ Plywood Removable Plate

(Optional) 48 VOLT POWER SUPPLY

1 – 19″ POWER SHELF MID MOUNT, REARWIRE SHELF, SINGLE AC INPUT W/ 2 BRK POSTIONS FOR BATTERY AND 20 GMT FUSE POSITION
1 – BC1000-AO1-10VV BASIC CONTROLLER W/ SNMP RJ45 ETHERNET PORT
4 – CBB020E 20 amp breaker, Bullet-nosed terminal w/electro-mechanical trip
2 – V1000A-VV Rectifier, 48V, 20A, internal fan cooled -40 to +75C
1 – Logo Blank Rectifier
1 – TEMPERATURE PROBE
1 – 10′ Alarm Cable
Battery inter-cell cables Qty 3 and the Qty 2 = 4′ / one pos and one neg with single hole lugs on both ends.
1 – Battery Disconnect – Rack side rail mount
4 – NSB-100FT // 100 AMP HR // 12 VOLT BATTERY
1 – 16″ X 17″ CENTER RAIL MOUNT BATTERY TRAY 12 GA STEEL

Features

Alumishield®

Top cover, shades cabinet from the sun

Handles

Stainless steel – NEMA

Rails

Fully adjustable & Alodine coated

Doors

Front and rear secured with three point locks and padlocking handles

Vents

Front & rear, top & bottom, filters supplied

Accessory Options

R-2-62:

Two extra 62 " rails and mounting hardware

MTDD:

Mounting tray

CA-4:

Caster kit (4) & mounting hardware

Climate Control Options

Air Conditioners

Shipping Info

Standard
The OOD-62DD-GP-62 is shipped fully assembled, but can easily be knocked down and reassembled at your site, if desired.