20″H x 24″W x 20″D (10 RU) Outdoor Enclosure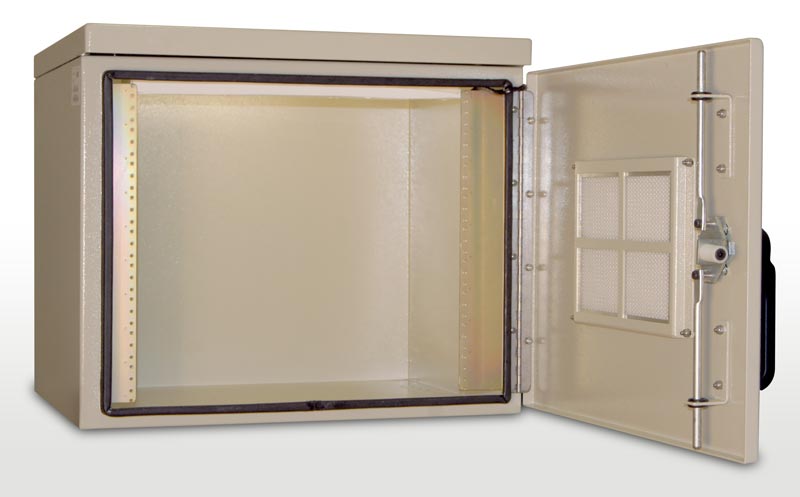 Industry Standards
NEMA 3R, 4 or 4X
UL Listed (NEMA 3R configuration)
Application Types
Provides a secure, climate controlled environment for any electronic equipment.
Telecommunications
Wireless/Broadband
DAS/BDA
Fiber Optics
Backhaul
Base Station
Small Cell
Utility-Traffic
Trailer-based Communications
Wi-Fi
Flexible and Scalable
The SOD series enclosure is the ultimate choice for your outdoor equipment racking applications when versatility is needed. Being constructed of our Alumiflex® material, you'll find it noticeably lighter than steel, yet strong enough to rack even the heaviest equipment. When choosing the SOD series, ease of installation along with pad, pole and wall mounting options provide endless possibilities for where you can locate. With many standard features including 3 point locking system, venting system with reusable filter and top solar shield; you will see the value quickly add up. Add to this a long list of available options including HVAC climate controls, electrical and cable entry solutions allows the SOD series to provide a flexibility of options that are second to none. All this with industry best lead times and competitive pricing as you have come to expect with DDB. The SOD series… a versatile, scalable design to meet a wide array of situations.
Base Cabinet Weight and Dimensions
Exterior Cabinet Dimensions
20"H x 24"W x 20"D
Approximate Weight
Raw 55 lbs. / Shipping 80 lbs.
Shipping Dimensions
25"H x 32" x 32" (ships on a pallet)
Features
Heavy duty outdoor construction with Front Access, Pad Mountable, and 0.125" Aluminum construction
10 Rack Units (RU) – 19" (standard)
SS External Hardware and Polypropylene filters
UL Listed version available (contact sales for details)
Stainless Steel Door Hinge
New Zinc Die Powder-coated Black EMKA Three Point Padlocking Handles
Painted Texture Cream