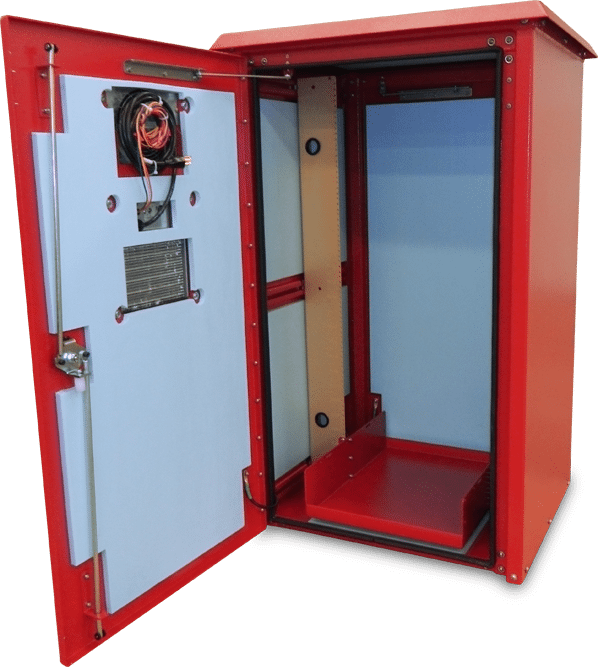 Designed for Harsh Outdoor Environments
DDB Unlimited is an OEM NEMA Outdoor Enclosure Manufacturer. We provide a large variety of standard sizes from 16″ to 90″ high and from 25″ to 42″ deep with adjustable and reversible EIA 19″/23″ racking rails, front and rear doors and 3 point, pad locking handles. Designed for the telecommunication industry, our enclosures can be deployed in harsh outdoor environments both rural or residential.
fastest Lead Times In The Industry
DDB manufactures a wide variety of NEMA 4 & 4x NEMA enclosures & offers accessories such as enclosure air conditioners, heaters, fans, and power options. DDB's large stocked inventory allows for the industries fastest lead times, we offer quick and easy payment via credit cards, and our enclosures are made in the USA. DDB is an ISO 9001 registered company.
Alumiflex®
Noticeably lighter than steel, yet strong enough to rack even the heaviest equipment.
Alumishield®
Provides superior solar protection with its large overhang roof design.
Innovation with unparalleled service & value
Renowned for building modern, innovative enclosures with a craftsman's attention to detail, DDB leads the industry with exclusive features like Alumiflex® and Alumishield®. AND we back it up lean manufacturing methods, on-time delivery, and outstanding customer service.
Call us at 800-753-8459 or Request A Quote today!
What our Customers are saying about us
A Model Organization
Bryan Campbell and his entire team at DDB are truly a model organization. I cannot remember a single time DDB has not come through on quality and at service levels that are rare these days. Most recently I let Bryan know I had an order coming his way on Thursday, March 29 for three DDB cabinets, all of which required air conditioning units and cabinet insulation to be installed prior to shipment. I asked if he could get them assembled and picked up by our carrier by Friday, March 30. It typically takes five business days to do one integrated cabinet like these. Bryan and his team at DDB completed all three cabinet integrations in less than a day and made the pickup happen. I really cannot say enough about Bryan and his entire team at DDB.
Mike Sauerhoff
Sr. Account Manager, Tessco
You Can't Go Wrong With DDB
Dustin runs a tight ship at DDB. His company makes the best Nema rated enclosures on the market, bar none! Great guy to work with and does custom work. You can't go wrong with DDB
David Rountree
Author, Speaker, Paranormal Researcher, Physicist, Audio and Acoustic Engineer
DDB Made My Life Easier
Thank you for the 3D model. It made my life a lot easier. The enclosure was perfect, it exceeded my expectations.
Gerry Alejos
R&D Manager for KAM Controls, Inc.
DDB A True Partner
DDB has been a prime vendor of ours for years. We have a true partnership with them. They understand the market needs and they continue to step-up on our demands. Truly a pleasure doing business with nice people.
John D. Talley
Executive Vice President, Talley Inc.
Outstanding Service and Support
DDB has outstanding customer service and support. Their products are as top notch as they are dedicated to continuous improvement.
Ryan Schrebe
Category Manager, Towers & Enclosures Business Units
Fair and Ethical
Working with Dustin is a pleasure. While he does drive a hard bargain on his vendors, he is fair about the vendor/customer relationship. In the years I have worked with Dustin he has always been fair and ethical in his business practices with his customers, vendors and employees. I look forward to many more years of calling on him.
Mike Ellis
Regional Sales Manager at Alpha Technologies, Ltd.
Glad to Be Associated with DDB Unlimited
Dustin Mahorney leads the DDB Unlimited Group with confidence. He is the rare owner who serves as an inspiring mentor for the whole staff. He exhibits strong interpersonal skills with staff, customers and vendors. I am so glad to be associated with the DDB Unlimited Group.
Ava Idom
Partner Advisory Board at Acumatica