Features & Specifications
STANDARD EIA 19" Racking
EIA-310 is a specification for what is often called the "standard rack". This specification standardizes several important features of 19″ racks, such as the Rack Unit (RU or U), vertical hole spacing, horizontal hole spacing, rack opening, and front panel width. The specification also set tolerances on each of these dimensions.
The EIA-310 specification has been the 19″ racks standard for equipment for 50 years. The items that the specification does not cover are the real reason for the industry wide incompatibility we now face. Rack features such as hole type, rack mounting depth, front and rear space, and obstructions between front and rear rails are the cause of real rack headaches.
Vertical Hole Spacing
Vertical hole spacing is defined as a repeating pattern of holes within one Rack Unit of 1.75″. The hole spacing alternated at: 1/2″ - 5/8″ - 5/8″ and repeats. The start and stop of the "U" space is in the middle of the 1/2″ spaced holes. See the diagram below.
Horizontal Spacing
The horizontal spacing of the vertical rows of holes is specified by EIA-310 at 18 5/16″ (18.312)(465.1 mm). This dimension is not well maintained on some racks, causing problems with equipment installation. Many manufacturers use equipment mounting slots instead of holes to allow for variations in this dimension.
Rack Opening
The opening in the rack is specified as a minimum of 17.72″ (450mm). 2Post or relay racks tend to have a larger than normal opening, as do many other racks with threaded holes. Square hole racks tend to be very close to the minimum opening. Front Panel Width.The only dimension on a 19″ rack that actually measures 19" is the width of the front panel of equipment.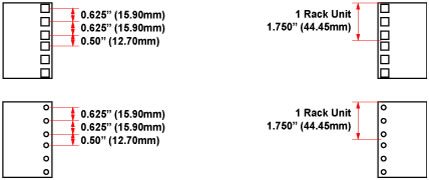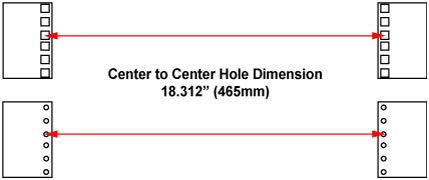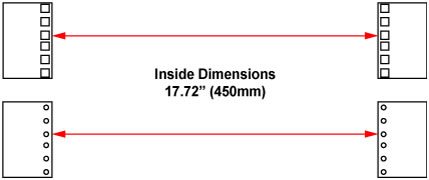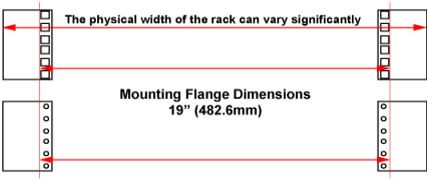 Call and let our experienced team help you with your build.