DDB UNLIMITED Builds Enormous Enclosure for Verizon site at Minnesota Twins Baseball Stadium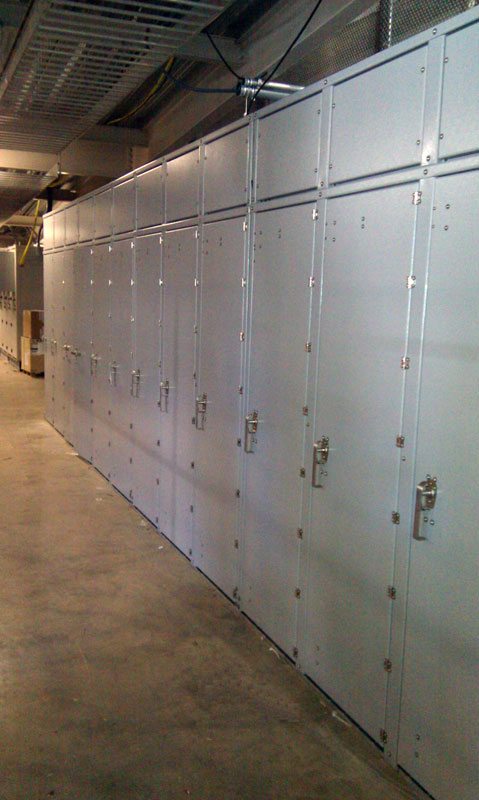 (3/11/11 Wynnewood, Ok.) DDB Unlimited is building its largest ever enclosure to house telecommunications equipment for Verizon Wireless. The equipment will be located at Target Field, the home of the Minnesota Twins Baseball team, and will provide Verizon Wireless service throughout the stadium. This is DDB Unlimited's biggest enclosure to date, with a 400amp service powering the 1008 rack units of equipment. The enclosure is 94" high and 25.5' wide and is equipped with 188,000btu of cooling to offset the heat created by such a large amount of equipment. The construction of this enclosure is all powder-coated aluminum with stainless steel door handles and fasteners. It has 12 separate front doors and 12 back doors for full access to the equipment.
DDB Unlimited, Inc. is an established innovator in the design and manufacture of enclosure solutions for the Security, Traffic, Telephony, Broadband and 4G Wireless industries with facilities in Wynnewood and Pauls Valley, Oklahoma. DDB Unlimited has grown from humble beginnings as a two-way telephone company, into an OEM enclosure manufacturer that serves all customer tiers in the telecommunications ecosystem.
DDB Unlimited, Inc. offers a broad selection of high-quality, option rich solutions that can be customized to suit any application and environment. We offer the highest quality and best value in the industry today. Building on 35 years of experience in the wireless industry, DDB Unlimited is focused on being the enclosure solutions partner of choice. Our goal is to exceed the expectations of every client by offering outstanding customer service and expertly developing solutions that resolve our customer's unique enclosure challenges. DDB Unlimited is privately owned and spiritually based.
Posted By DDB Unlimited, Inc.
Call and let our experienced team help you with your build.